Otis B. Driftwood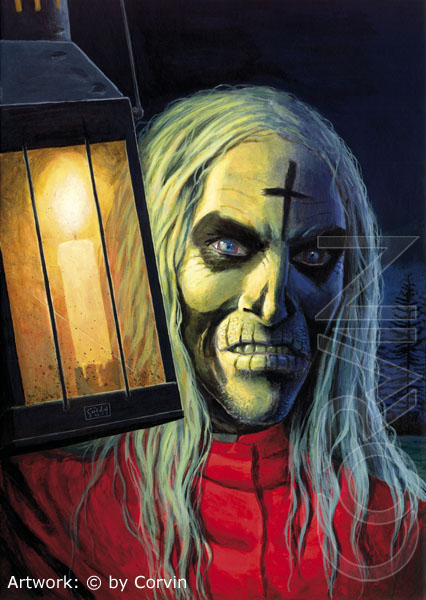 (2011, Acrylics)
This is the third painting I did of the main 3 characters from the film
House of 1000 Corpses.
I did this for a convention but as the actor could not attend, I still
have to meet him, to show him my portrait.

About the series:
The series started with Captain Spaulding. I painted him in only a few
hours from a photo, when I knew he was attending a convention the
next day. It turned out pretty well, given the very short time I had
to do it, and all of the fans and the actor Sid Haig loved the image.

The second image was Baby Firefly, a commission that someone gave
me who loved the Captain Spaulding painting I did before. This painting
was also done from a photo with not too much additional work around it.
In fact the curly hair made me crazy, because it was so much work
that I did not expect in the first place.
The third image (Otis) was more ambitious. I wanted to make him
lurk out of the darkness into the face of the viewer, holding his lamp
like a classic night watchman. I could not include his hand, as the
lamp is quite big and I wanted to keep the focus on his face.
There is no photo that I simply used to transfer it to the paper.
I even used a couple of photos for the face alone and the lamp is
done from scratch and a little reference from the action figure.
The most difficult part was to get the lighting right, but it turned out
nicely after all the work. At some point I even took a break and
worked on 3 other images until I returned to Otis and finished the
painting.