Lordi
(Mr. Lordi)

I tried to make Lordi more scary with this painting making the nails more sharper and the eyes glow.
I used only 3 colors for the entire painting and tried to apply his new mask on an older photo that I
used as a reference to get the face right. The painting has a nice Hell's Kitchen mood to it.

(2013, Acrylics)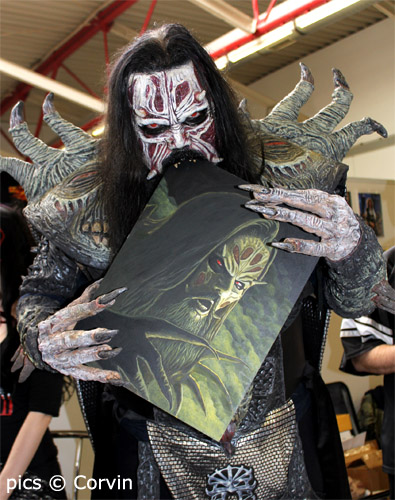 Oh wait! Please do NOT eat my painting!

Mr. Lordi and me. I talked to him 5 times that weekend.
He is a very friendly fella and has a great sense of humor.
And he is also extremely dedicated to his band and still
a fanboy of a lot of other stuff. I am sure he made a lot of
new fans that weekend.