Emma Frost

(2010, Digital Painting)
When I heard that Kristanna Loken would be attending a Convention in Belgium,
I thought about painting her. But with her roles as Terminatrix, Painkiller Jane and
Bloodrayne she had already strong iconic roles. So that was too obvious and
boring. I wanted to do something different. Some years ago I tranferred Charisma
Carpenter into a (sort of) Elektra-like figure. That worked out pretty well and
so I tried to find a comic charakter for Kristanna. When I looked at all the photos
that I found of her (and the Terminatrix-role in mind), I thought she would be a
cool Emma Frost (pun intended).


Kristanna was quite surprised about the painting. She did not know the charakter.
But she liked the painting and we discussed about it a little.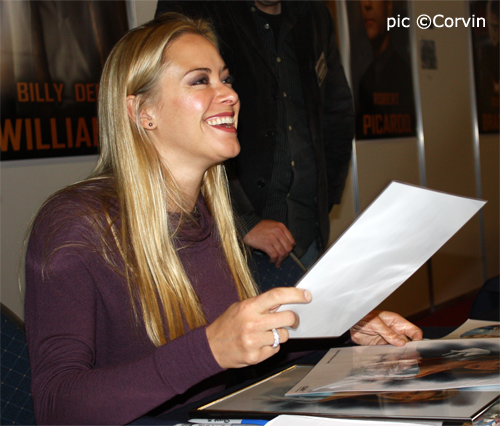 I gave her some prints and she told me her mother would like one of them too :-)
As she was the last (interesting) actor to confirm her appearence at the convention,
I had to hurry to do the painting. I finished it at 2 o'clock in the night before leaving
early in the morning to drive 300 km to Belgium. For the convention it was good
as a portrait, but I plan to work some more on the painting, expanding it a little
more downwards and putting in some more details.
The painting is done all digitally, because I like to keep a smoothness in female faces,
and that is a little easier with a digital painting than with acrylics.
Many thanks to Kristanna Loken for the nice talk!