CORVIN'S VAMPIRE SERIES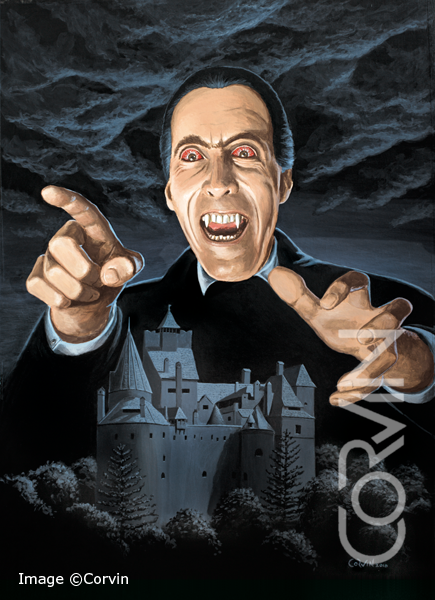 (Christopher Lee, 2010, Acrylics)
The start of a series of paintings that I will do in the next years.
This is a big painting with lots of details and painting the castle made me almost mad :-)
The castle is Bran in Transsylvania, known as the real Dracula castle.
In fact he never lived there but it is a wonderful place and I had been there
in 2008 myself with my girlfriend. When you look at the image below, you will see a
selfportrait that is based on a photo taken on Castle Bran picturing me sitting on a
bench in a corridor of the castle, looking into the inner courtyard.

(Self Portrait, 2010, Acrylics)
But for this painting I used another castle as backdrop: Corvin's Castle in
Hunedoara, in Romania. I thought that might fit better to my name :-)
So, I switched the castles.
Ah, by the way: The real Dracula DID live in THAT castle for a time.
In fact he was imprisoned there for 7 years by Matei Corvin.
One more detail: On the original painting I included my girlfriend in
the moon and the painting was printed as a sticker for a Panini album.

More Vampires are coming up next year. Stay tuned!